Do you need Private Transportation in Tulum the next few days to your Hotel or Airbnb?
Tulum Transport Book Safe Drivers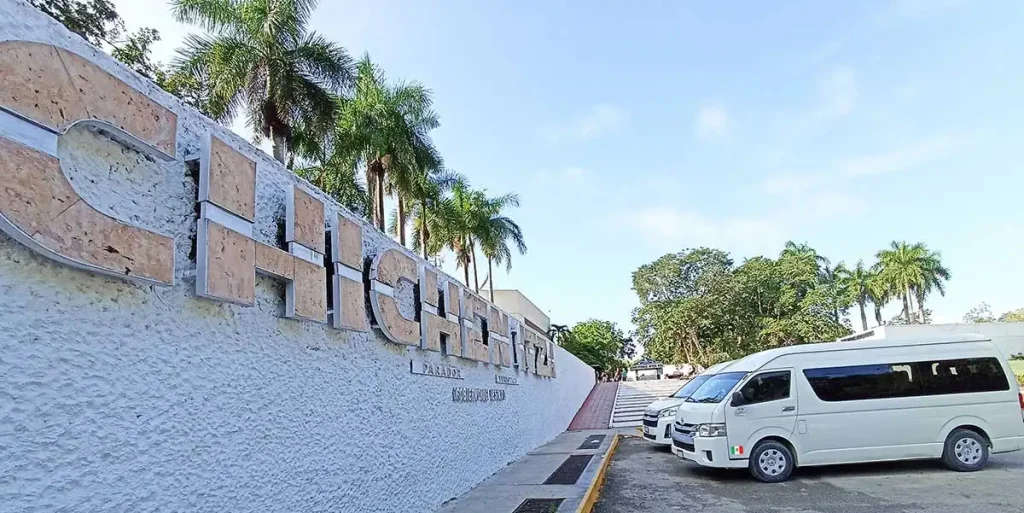 Tulum, on Mexico's Riviera Maya, is a popular destination among tourists for its pristine beaches, archeological history, and bohemian vibe.
Here are some activities that tourists usually enjoy in Tulum:
Tulum Ruins: Visit the famous archaeological ruins of Tulum, located on a cliff overlooking the Caribbean Sea. Explore the Mayan temples and learn about the history of this ancient city.
Beaches: Enjoy the beautiful beaches of Tulum, known for their white sand and blue waters. Some popular beaches are Playa Paraiso, Playa Ruinas, and Playa Pescadores.
Cenotes: Explore the cenotes, natural freshwater pools that are characteristic of the region. Some popular cenotes near Tulum are Dos Ojos, Gran Cenote, and Cenote Calavera.
Waiting for the sunrise on the beach: Tulum is famous for its impressive sunrises. Consider getting up early to enjoy the panoramic views as the sun rises over the sea.
Biking and Bicycling: Tulum is quite friendly for biking. Rent a bike and explore the city and its surroundings in an ecological way.
Eco-parks: Visit ecological theme parks like Xel-Há and Xcaret, where you can snorkel, swim in underground rivers, learn about Mexican culture, and enjoy water activities.
Gastronomy: Try the delicious local cuisine in the many restaurants and food stalls in Tulum. From authentic Mexican dishes to healthy options and international cuisine, there are options for all tastes.
Shopping and Art: Explore the art and craft shops in downtown Tulum, where you will find a variety of local products, from textiles to jewelry and decorative objects.
Excursions to Nature Reserves: Take part in excursions to nearby natural areas, such as the Sian Ka'an Biosphere Reserve, where you can observe local biodiversity and explore the jungle.
Nightlife: Tulum also offers options for nightlife, with bars and clubs often hosting special events on the beach.
Remember that Tulum is a place with a focus on sustainability and environmental conservation, so it is important to be respectful of the environment and the local culture during your visit.
Transportation rountrip or one way
Book in advance and enjoy your vacation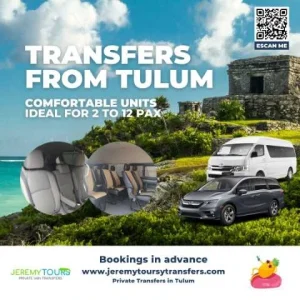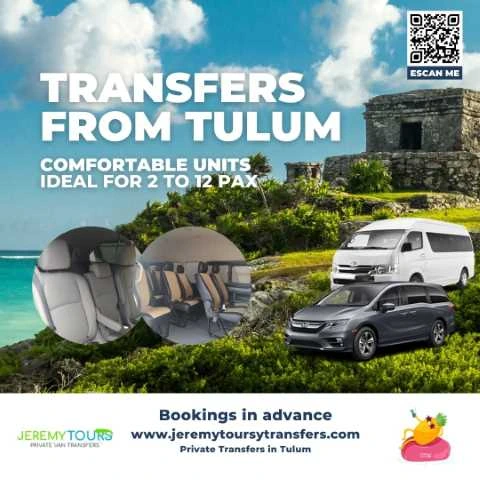 Archaeological zones Muyil, Tulum, Coba, Chichen, Ekbalam
Parks xelha, xcaret, xplor
Cenotes dos ojos, casa Tortuga, corazon kanlum and more
Holbox ferry port
Isla mujeres ferry port
Explore tulum town, Playa del Carmen and Cancun
Private tours excursions
Hotel to Hotel change
Private tours
Airport Rountrip
Dinners, Beach Clubs, Restaurants
Bacalar
Book or info by whatsApp
Book in advance ideal for groups, friends or familys safe & comfortness
Enjoy the Comfort of our Vehicles with Personalized Amenities for a Unique Experience.
Safe Transport in Tulum
Relax and don't drive and let us take care of your transportation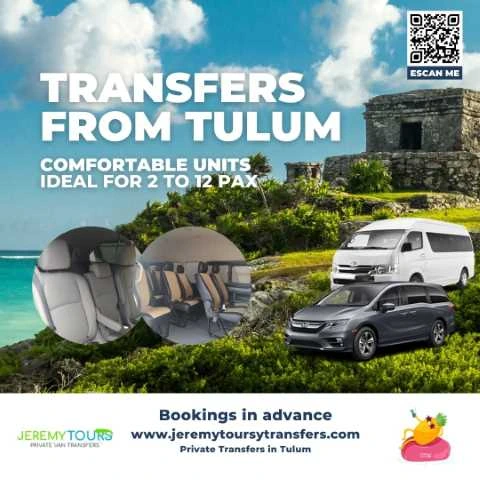 With more than 10 years of expertise, in Tulum Transportation we provide transfer services from Tulum to any hotel, house or accommodation in Tulum town and in Tulum hotel zone. We also offer the service of a private driver and private tours.

Book safe transport in Tulum Best prices and Best Service in Tulum.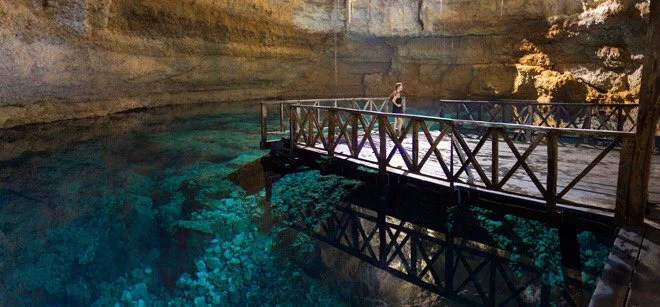 Tulum Tour All included
Refreshing day Book
Tulum Ruins
Cenote Corazón
Lalguna Kan Luum
Include cold waters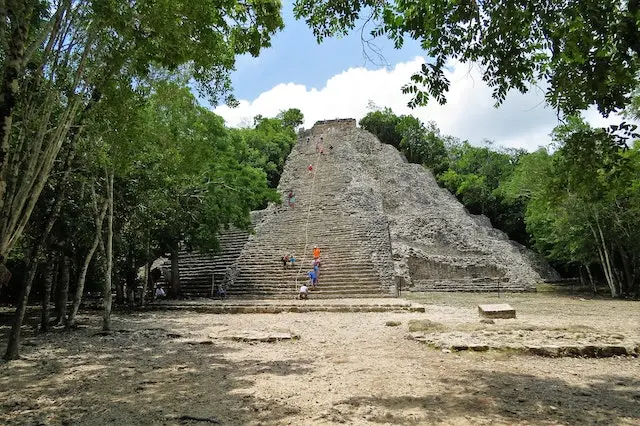 Coba Tour All Included
Rountrip transfer or all included
Ruins Coba
Cenote
Shopping Tulum Dowton
Include cold waters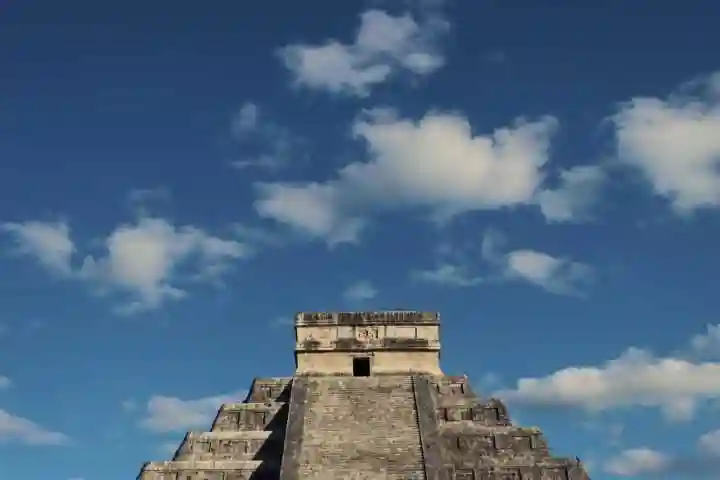 Chichen Itza Transport
Only Transport Bookings
Chichen Itza Ruins
Cenote Ikil
Valladolid
Include cold waters
Tulum's Caribe Maya is open for all tastes, for all ages, for all moods, and for all times of the year. We hope that your stay in Tulum is full of inspiring and positive experiences.
Fill out this form and we will contact you as soon as possible
Highly recommended reservation in advance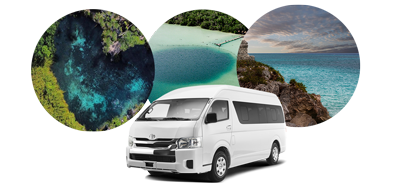 Ideal transport for 1 to 14 people.
Plan your day and write to us to know the options we have for you
We driver enjoy your vacation Explore México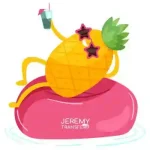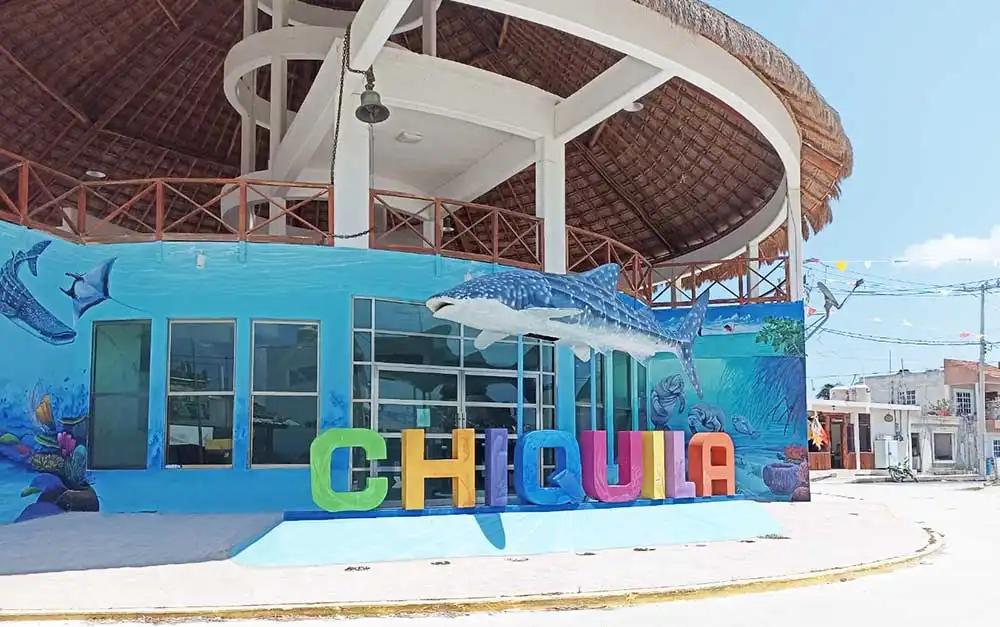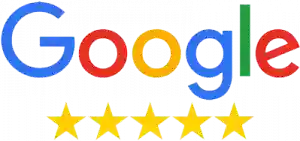 Leave us your opinion and know that of others
Private Transfers Only Transportation in Tulum Security & Comfortness
Thank you from the bottom of my heart! We really enjoyed drivers for taking us around Tulum. They were very punctual and polite.
Mohini Bhakta
Great service – we are on the plane – please let me know if you want me to leave a review Victor Cojocariu
Booked a private tour from Tulum to Yucatan Centos (Oxman, Suytun). The driver was very friendly and punctual and he even had a fridge with some beers and chips. Also the car was very new and clean. Highly recommend! Korkut Tufan
Great service. Kind, honest, efficient, comfortable, cheap. Highly recommendable
Nick Hoedeman
The ride to holbox was very good and the driver really nice
Arshia Nesvaderani
Hey thank you so much it was excellent service will leave a good review online
Tulum Visit
Frequent questions
Is Safe Transport?

How Book?
Hire tourism and transportation services through qualified providers. vehicles only through certified agencies and protect yourself with insurance. Obey all warnings and signs on beaches, cenotes and public places. Follow the rules and accesses designed for the preservation and conservation of cultural and natural heritage.
for your safety, you need to know who is taking care of your transport service in case of an unforeseen problem. If you hire a public transport service, you will never know the real name of the driver and if the contracted service is provided by a legal company or one of those commonly called pirates.
Once your service is confirmed with us, It is completely guaranteed.
To make a service order we need some data
Once your service is confirmed with us, It is completely guaranteed.
To make a service order we need some data
With this information you will allow us access to your hotel
* NAME
* LOCATION (Aibnb, Hotel) Better if you have gps location send us by whatsapp
If you have a lobby or room number provide Important: normally the security guards ask us for the information to allow access to your transport
* PAY OF THE SERVICE (Deposit to book your date)
In case of cancellation by the customer No refund is applicable
*Request your payment link for your advance payment and validate.