Our priority is your safety, your comfort and your time.
If you're looking for transportation in Tulum, we take you wherever you want, with whomever you want and whenever you want.
Share with me your itinerary!
Quote your roundtrip transportation. let me know yor activities and pay per service we take care of all your transportation in tulum sample itinerary (Set times better quote)
| Date | Destination | Pickup time | Return time |
| --- | --- | --- | --- |
| 27 July 2023 | Dinner (specify place) | 8:00pm | 12:30am |
| 28 July 2023 | Hotel Zone Beach Area (specify place) | 7:00pm | 11:00pm |
| 29 July 2023 | Cenote, Ruins and Restaurant | 8:00am | 2:00pm |
| 30 July 2023 | Beach Club (specify place) | 11:00am | 6:00pm |
Service is Pickup and drop off safe rountrip transport
Safe transportation in tulum
When it comes to safe transportation in Tulum, there are several reliable options to choose from. Here are some safe transportation methods you can consider during your visit:
Taxis: Official taxis in Tulum are generally considered safe. Look for authorized taxis with visible official signage and logos. Make sure the driver uses a working meter or agrees on a fare before starting the ride.
Private Transportation Services: Many reputable tour companies and transportation providers offer private transportation services in Tulum. This can be a comfortable and secure way to get around, especially if you're planning to visit multiple attractions in a day.
Renting a Car: Renting a car from a reputable agency can provide you with the flexibility to explore Tulum and its surrounding areas at your own pace. Make sure to choose a reliable rental company and understand local driving regulations.
Bicycles: Tulum is known for being bicycle-friendly. Renting a bicycle can be a safe and eco-friendly way to navigate within the town and along the beachfront.
Walking: If you're staying in the central area of Tulum or close to the beach, walking can be a safe option for short distances. Just be mindful of traffic and use designated pedestrian crossings.
Public Buses: Tulum has a public bus system that connects the town with nearby areas. These buses are generally safe and affordable.
Tourist Shuttles: Some hotels and tour operators offer shuttle services to popular attractions, which can be a convenient and safe option for transportation.
Follow Safety Guidelines: Regardless of the transportation method you choose, always prioritize safety. Wear seatbelts in vehicles, keep your belongings secure, and be cautious when crossing streets.
Always exercise common sense and trust your instincts when choosing transportation options. If you're in doubt about the safety of a particular service, consider using alternatives that you feel more comfortable with.
Book or info by whatsApp
Book in advance ideal for groups, friends or familys safe & comfortness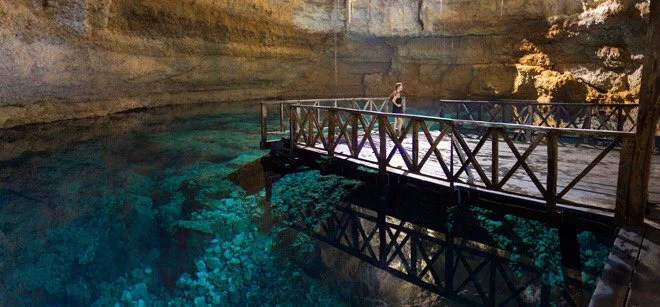 Tulum Tour All included
Refreshing day Book
Tulum Ruins
Cenote Corazón
Lalguna Kan Luum
Include cold waters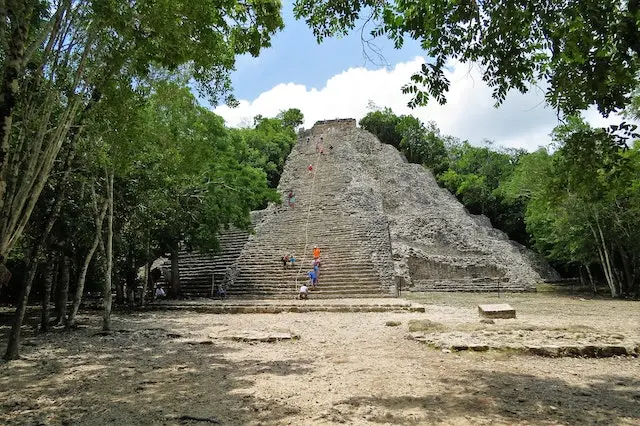 Coba Tour All Included
Rountrip transfer or all included
Ruins Coba
Cenote
Shopping Tulum Dowton
Include cold waters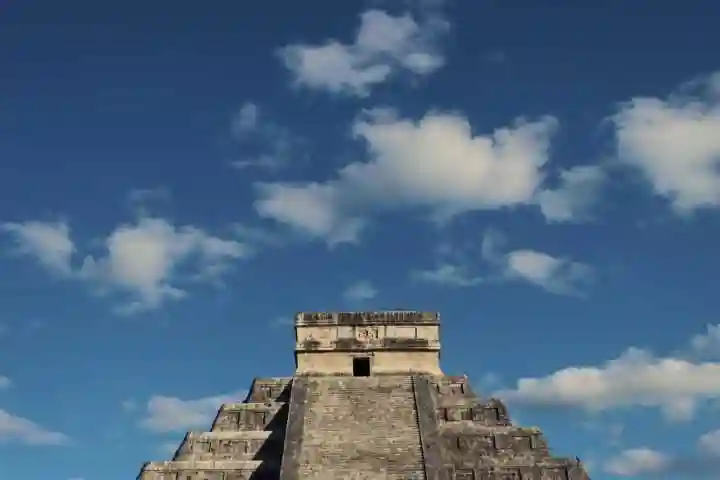 Chichen Itza Transport
Only Transport Bookings
Chichen Itza Ruins
Cenote Ikil
Valladolid
Include cold waters
Tulum, on Mexico's Riviera Maya, is a popular destination among tourists for its pristine beaches, archeological history, and bohemian vibe.
Here are some activities that tourists usually enjoy in Tulum:
Tulum Ruins: Visit the famous archaeological ruins of Tulum, located on a cliff overlooking the Caribbean Sea. Explore the Mayan temples and learn about the history of this ancient city.
Beaches: Enjoy the beautiful beaches of Tulum, known for their white sand and blue waters. Some popular beaches are Playa Paraiso, Playa Ruinas, and Playa Pescadores.
Cenotes: Explore the cenotes, natural freshwater pools that are characteristic of the region. Some popular cenotes near Tulum are Dos Ojos, Gran Cenote, and Cenote Calavera.
Waiting for the sunrise on the beach: Tulum is famous for its impressive sunrises. Consider getting up early to enjoy the panoramic views as the sun rises over the sea.
Biking and Bicycling: Tulum is quite friendly for biking. Rent a bike and explore the city and its surroundings in an ecological way.
Eco-parks: Visit ecological theme parks like Xel-Há and Xcaret, where you can snorkel, swim in underground rivers, learn about Mexican culture, and enjoy water activities.
Gastronomy: Try the delicious local cuisine in the many restaurants and food stalls in Tulum. From authentic Mexican dishes to healthy options and international cuisine, there are options for all tastes.
Shopping and Art: Explore the art and craft shops in downtown Tulum, where you will find a variety of local products, from textiles to jewelry and decorative objects.
Excursions to Nature Reserves: Take part in excursions to nearby natural areas, such as the Sian Ka'an Biosphere Reserve, where you can observe local biodiversity and explore the jungle.
Nightlife: Tulum also offers options for nightlife, with bars and clubs often hosting special events on the beach.
Remember that Tulum is a place with a focus on sustainability and environmental conservation, so it is important to be respectful of the environment and the local culture during your visit.
Booking Transport Tulum
for your safety, you need to know who is taking care of your transport service in case of an unforeseen problem. If you hire a public transport service, you will never know the real name of the driver and if the contracted service is provided by a legal company or one of those commonly called pirates.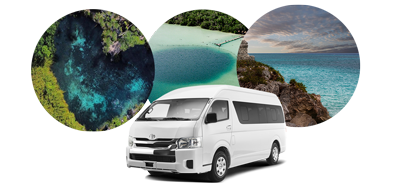 Ideal transport for 1 to 14 people.
Plan your day and write to us to know the options we have for you
Explore and Enjoy Tulum in comfort and style with our transportation services.
Work in two ways Private Driver o Per itinerary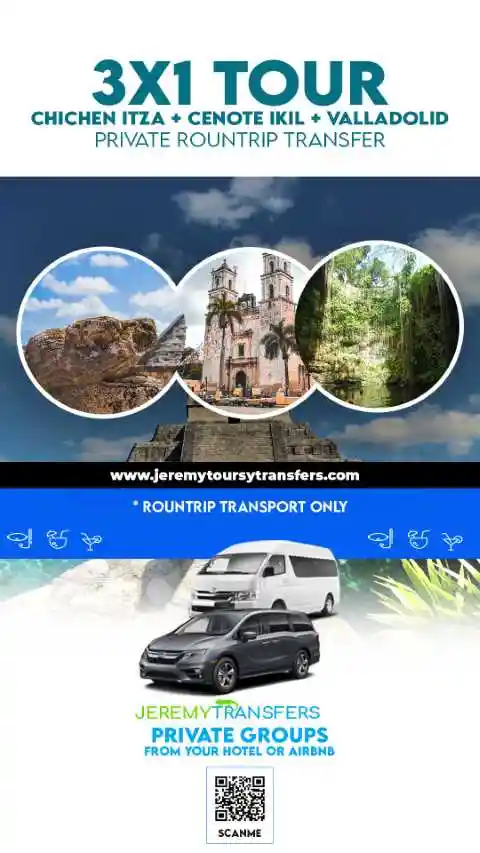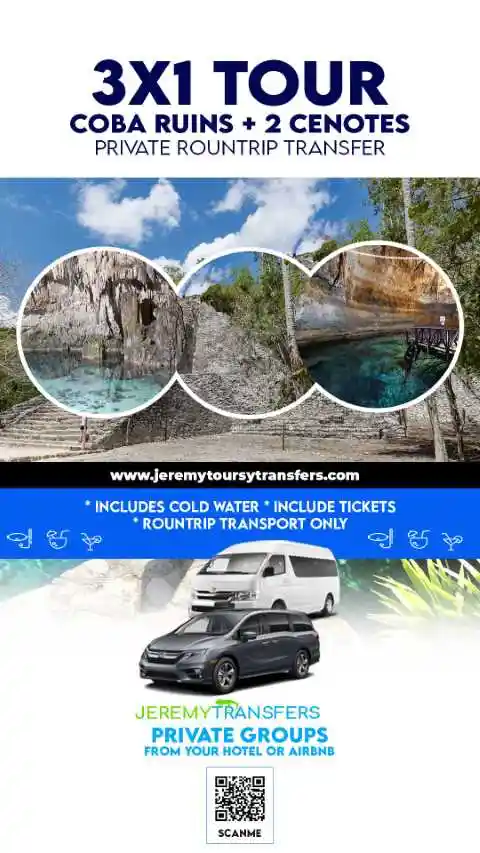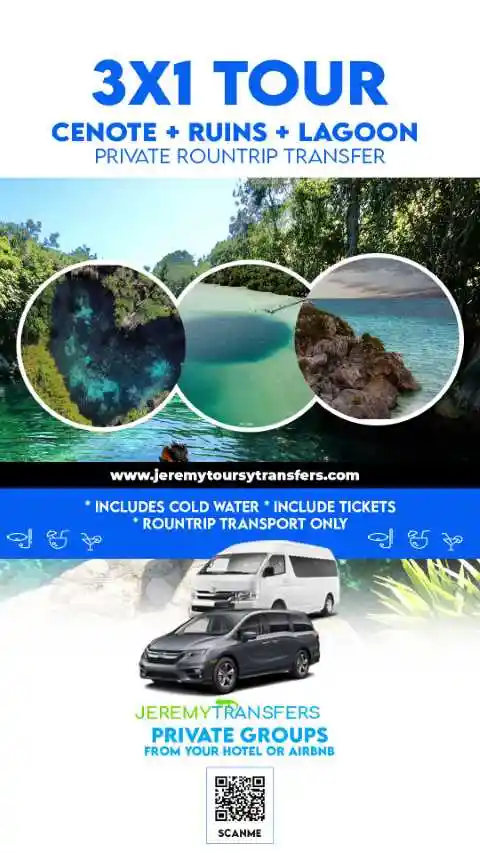 Includes
cold waters and includes tickets, Visit the Ruins of Tulum and a Cenote with us.

Tour from two people minimum price per person 130 usd

Group up 5 People special Price.